There are many ways you can help the Elves!
* Contributions can be made either via PayPal (link at right) or at our bank, Royal Bank America located at 124 Main Street, Phoenixville, PA. More details.
* Short on time, purchase one or several items from our favorites list and drop at a local drop box.
* You may also help by becoming an elf and either donating a specific item from our wish list or by donating all items for a child or even a whole family.   We also gladly accept donations of Christmas stockings, Christmas wrapping paper, unused gift boxes, tissue paper, bows, tape, and gift labels.  Drop off  at Stirling Storage 305 Kimberton Rd. or bring to a Wrap Party
*  Form your own Elf Group! This is a really fun way to join in with family, friends, and colleagues to spread holiday cheer.  We have plenty of families who need your help.  You can create a fundraiser, donate the money collected, and the Elves will gladly do the shopping for you.  Or you can pick a child/family and be Santa too! Click here for list of Children/Families.
*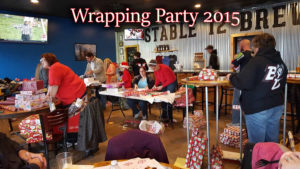 Participate in our Community Wrap Parties! This is one of the most special things we do.  We understand that not everyone is in a position to donate money or wish list items.  Your most valuable gift, your time, is greatly needed as well.  Spending the day wrapping the many gifts that are purchased and donated is an amazing experience.  In 2015, our Community Wrap Parties were amazing and truly captured the holiday joy.  The participants had fun, made new friends, and further forged a sense of community that has stayed with us long after the last present was delivered.  Get more information on these wrapping parties here.
If you know of, or are a family who could use assistance this Christmas season, please submit a completely confidential request for help here.